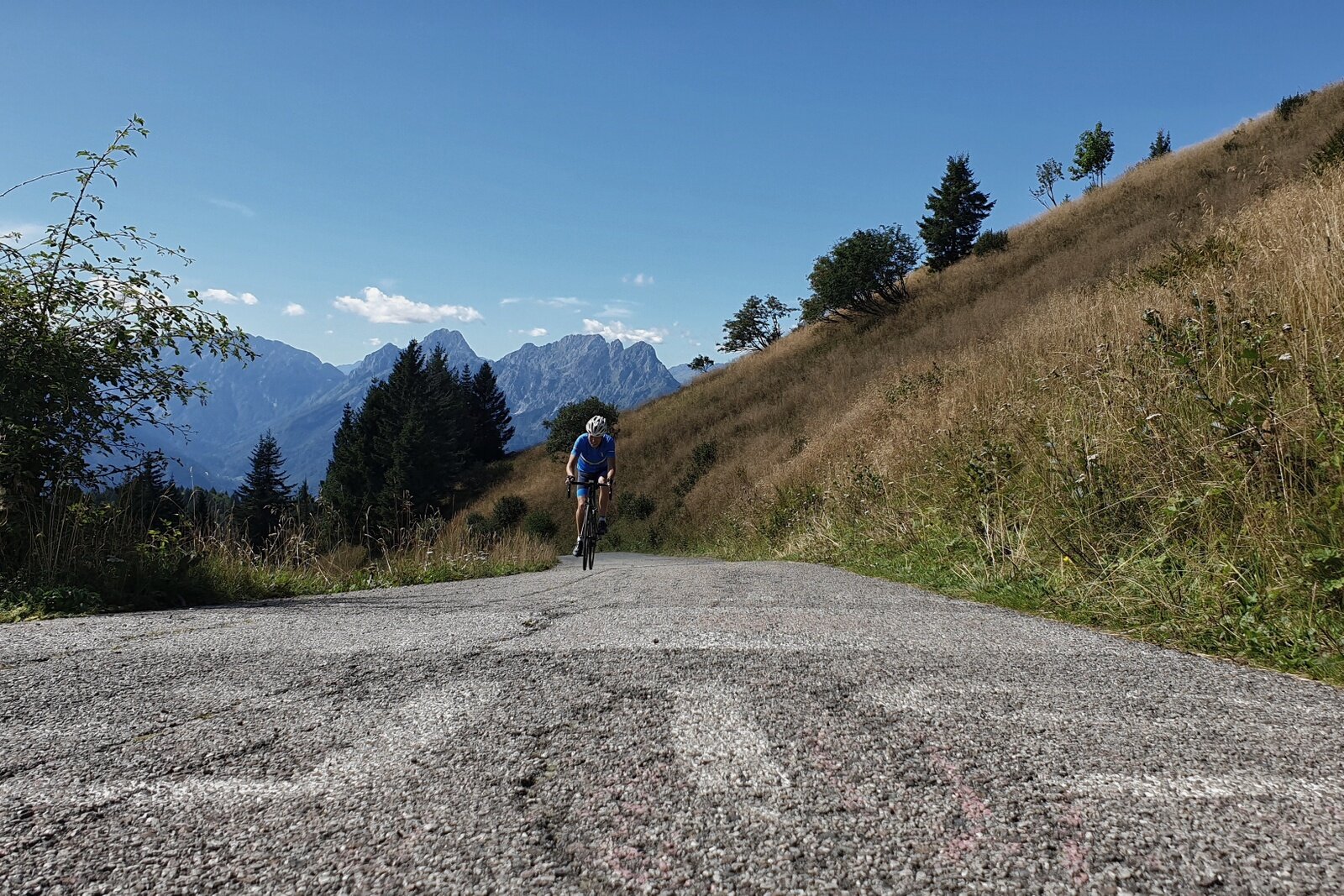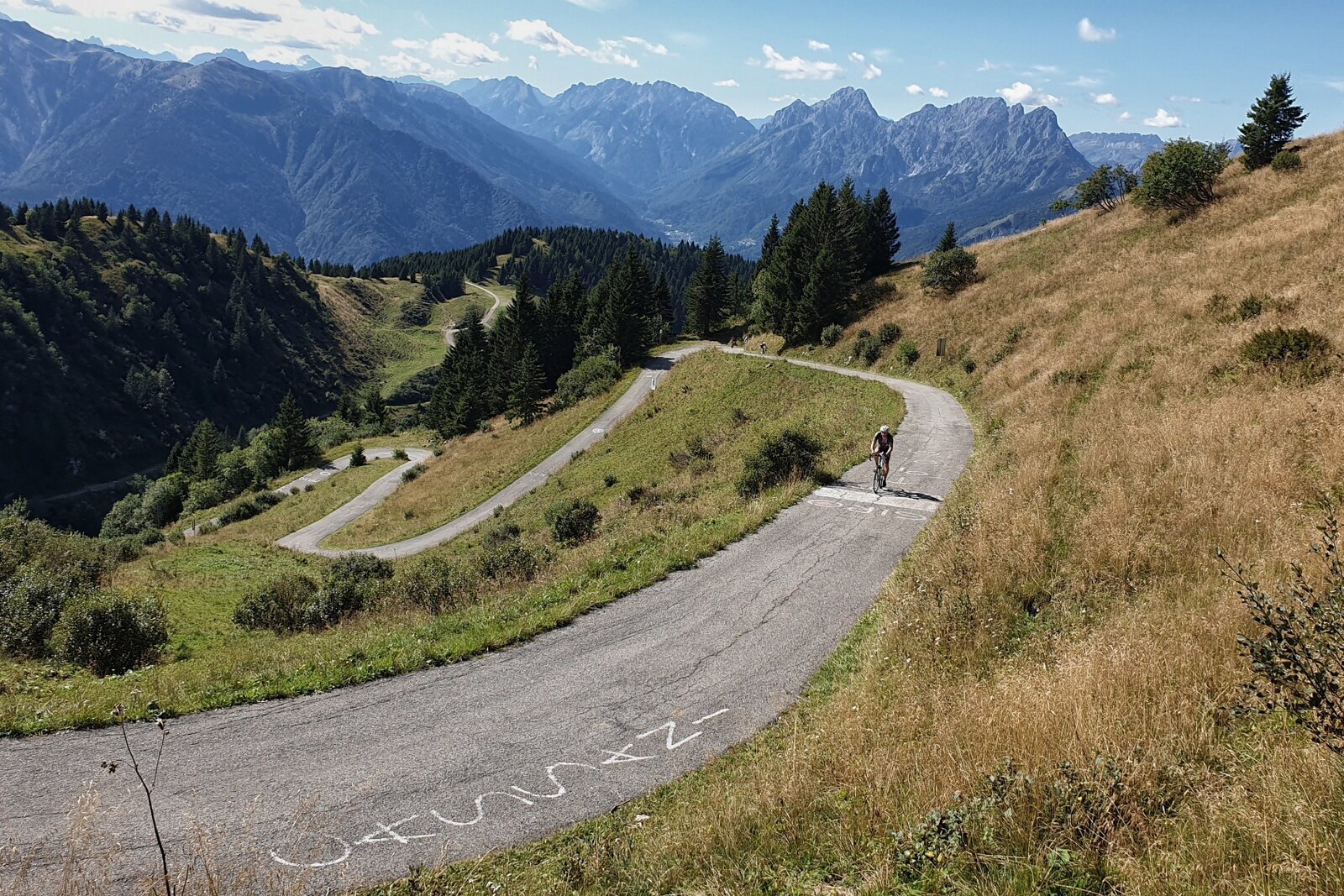 Monte Zoncolan is located in the Carnic Alps and reaches an altitude of 1,750 metres. This climb is considered the toughest in Europe, because from the start in Ovaro to Monte Zoncolan you have to climb a total of 1,210 metres in altitude over a distance of 10.2 km, with an average gradient of 11.7% and peak values of 22%.

In the first 2 km after Ovaro you have some passages with over 11% gradient, but only later, in the following 6 km, the average gradient reaches 15% with peaks over 22%. From about the ninth kilometre, the gradients drop back to 7%, after which the road goes rather flat through three short, straight tunnels with a cemented ground. The last 500 metres are uphill again with gradients of about 12%.

This legendary climb has often been a stage finish in the Giro d'Italia. The last time this happened was in 2018, when Chris Froome broke away from everyone with 4 km to go and won the decisive stage, which went on to win the Giro d'Italia. We all remember his sprint on the steep final climb, which remains inimitable for us cyclists.

The Monte Zoncolan Tour foresees two routes, you can choose to leave by bike directly from the hotel or shorten the route by leaving from the Tre Croci Pass. In this case, our hotel provides a transfer from the hotel to the Tre Croci Pass.

Dates
14 June 2022

26 July 2022

27 September 2022

Schedule > medium route
transfer from Hotel Melodia del Bosco in direction Cortina at 8:00 am

start of the tour from Passo Tre Croci between 9:15 and 9:30 am

coffee/snack break on the way

arrival at Monte Zoncolan between 2:00 and 3:30 pm

descent on the same route to Ovaro

snack break before the return journey

transfer with arrival at the hotel between 7:00 and 8:00 pm

Schedule > long route
start of the tour from Hotel Melodia del Bosco at 7:30 am

coffee/snack break on the way

arrival at Monte Zoncolan between 2:00 and 3:30 pm

descent on the same route to Ovaro

snack break before the return journey

transfer with arrival at the hotel between 7:00 and 8:00 pm
Route data – medium course
87 km

ascent 1,920 m

descent 1,990 m

highest point 1,800 m

lowest point 530 m

maximum gradient 22%
Route data - long course
131 km

ascent 3,460 m

descent 3,070 m

highest point 2,200 m

lowest point 530 m

maximum gradient 22%

Klaus's suggestions
keep a steady pace at the beginning and do not overdo it on the first climbs, because the last part will be very demanding

after the 1.6 km climb from Ovaro up to Liariis, enjoy the flat section of 500 m before the real climb, also called "Porta dell'Inferno" Gate of Hell

on this steep climb, keep your pace steady because the constant gradient makes recovery difficult

if you have to stop, stop in a bend, because it is easier to go on from there

when you reach the top, take time to rest and enjoy the view

the descent from Monte Zoncolan to Ovaro, with a gradient of 15% over 10 km, can easily overheat your brakes, so ride slowly and make a few stops to check them

Price and information
the special Ride «Monte Zoncolan Tour» is either included in the package or bookable separately at the price of 149.00 € per person

other days on request and if possible

the price includes the transfer and the guided tour

the price does not include lunch

a minimum number of 4 participants is required

the itinerary of the tour is subject to change