The word «tosta» in Italian common speech means obstinate, headstrong, persistent. This is the mood of the ride from Alta Badia to Bormio and back.
We start early in the morning from the Hotel Melodia del Bosco with the Gardena Pass and descend to Ortisei. Passing over the Passo Pinei and through Siusi we descend to Bolzano. Along the Wine Road we reach Merano and then ride up through the Venosta Valley to finish with the epic Stelvio Pass. We arrive at the Hotel Funivia and count just over 200 km and 4,000 meters of ascent.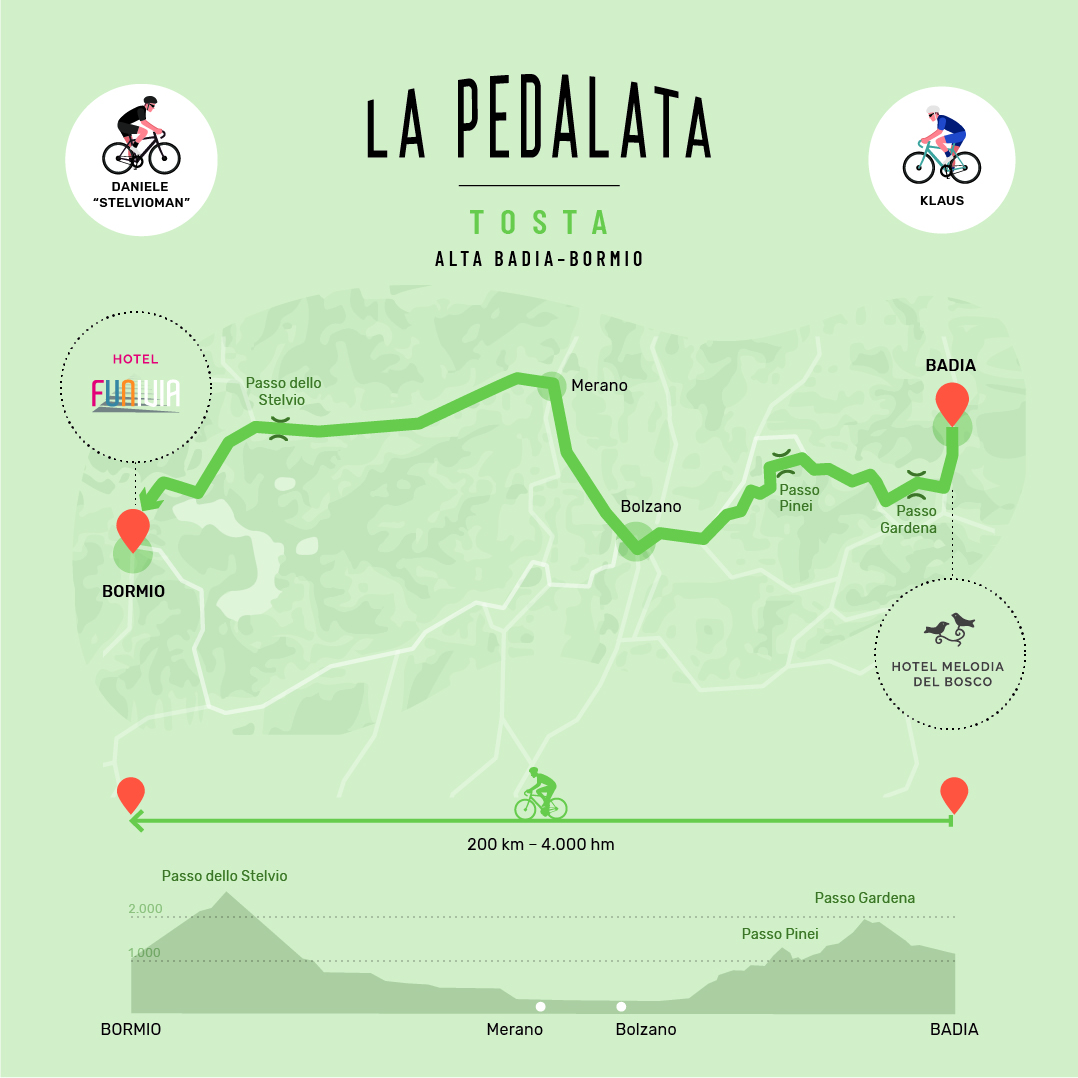 The following day is dedicated to a well-deserved rest with a short tour in Bormio.
On the third day we set off early for the return journey. We start with the Gavia Pass. We descend to Ponte di Legno and then ascend the Tonale Pass and the Mendola Pass. After the panoramic dive towards the Wine Road and through Bolzano, it will be uphill again to the Gardena Valley. We climb up the Gardena Pass and then descend to our destination, the Hotel Melodia del Bosco in Badia. The odometer shows 230 km and 5,500 meters of ascent.
This is real tough stuff!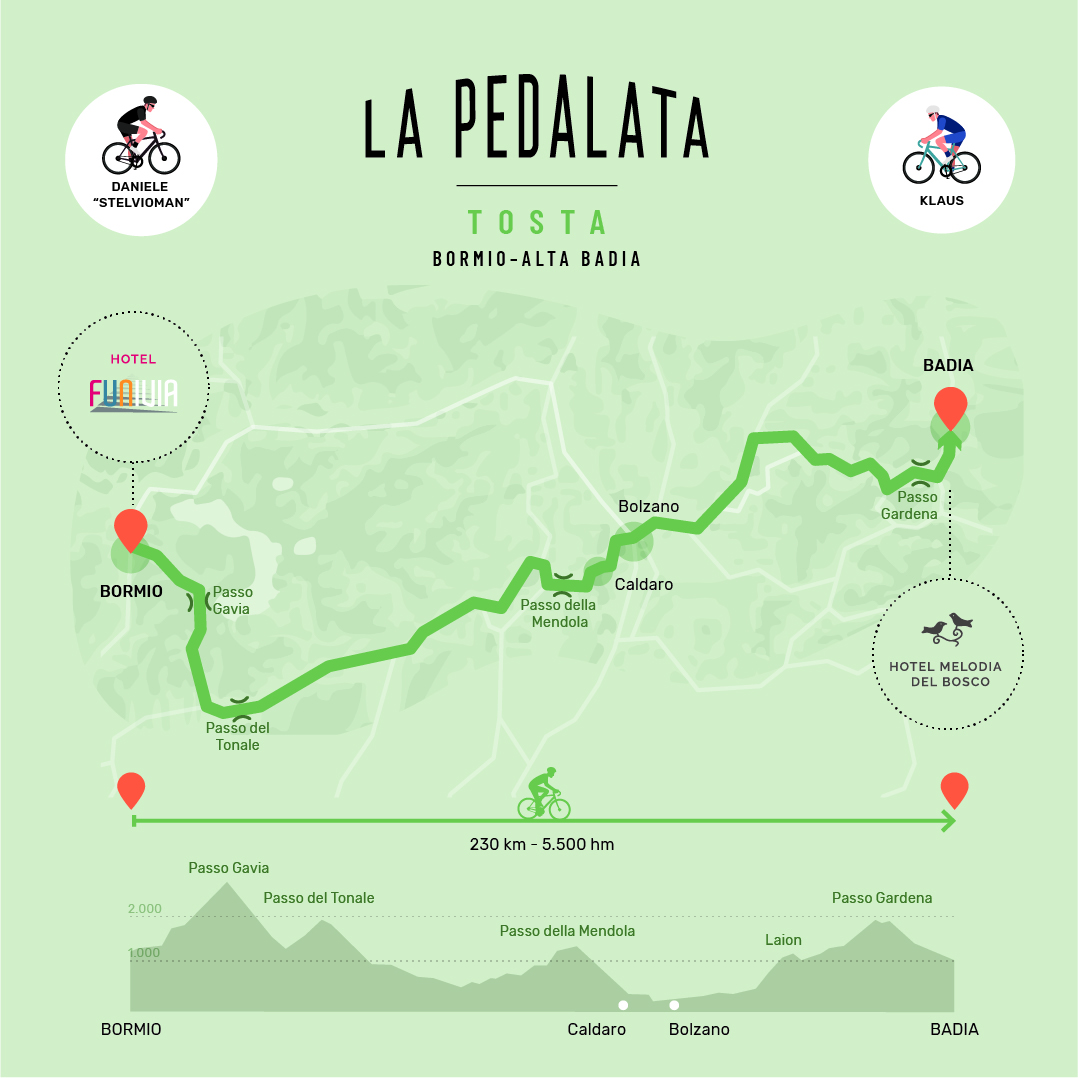 If you are a strong cyclist and feel ready for an extreme tour like «La Pedalata Tosta», choose your dates and we'll offer you a customized package.
Dates
only on request

we recommend the months of June and July because the days are longer

Schedule
day 1
check-in at Hotel Melodia del Bosco

dinner at the hotel
day 2
early breakfast

start of «La Pedalata» Alta Badia – Bormio

check-in at Hotel Funivia

dinner at the hotel
day 3
breakfast

tour to the Lakes of Cancano

snack after the ride

dinner at the hotel
day 4
early breakfast

start of «La Pedalata» Bormio – Alta Badia

check-in at Hotel Melodia del Bosco

dinner at the hotel
day 5

Route data
«La Pedalata» Alta Badia – Bormio > 200 km and 4,000 m ascent

Tour to the Lakes of Cancano > 35 km and 1,000 m ascent

«La Pedalata» Bormio – Alta Badia > 230 km and 5,500 m ascent

Klaus's and Daniele's suggestions
undertake this challenging multi-day tour with cyclists of the same level

the days on the bike are long, so it is essential to leave very early in the morning and on time

taking breaks during the tour is important but be careful not to lose precious time

Package
4 nights including half board

3 snack-packs with energy bar and drink

1 guided tour with accompanying car from Badia to Bormio

1 guided tour with assistance van in Bormio

1 guided tour with assistance van from Bormio to Badia

1 «La Pedalata» T-Shirt

Laundry service for cycling gear

Price and information
the package «La Pedalata» is organised on request and customized - price starting from 558.00 € per person

the price does not include lunch, snacks and drinks

a minimum number of 4 participants is required

a very good athletic preparation is a prerequisite for the tour

the itinerary of the tour is subject to change