The word «lieve» in Italian means light, and this is the lighter version of the tour «La Pedalata Tosta». The Alta Badia-Bormio and Bormio-Alta Badia routes are similar to those of «La Pedalata Tosta», but the rides are at the more relaxed pace of bikepacking.
The bikes are equipped with bikepacking bags provided by our hotel and the Hotel Funivia in Bormio so that cyclists can carry their essentials for the journey. The key word is exploration and the program is designed so that cyclists will enjoy stops and overnight stays in the charming villages along the way.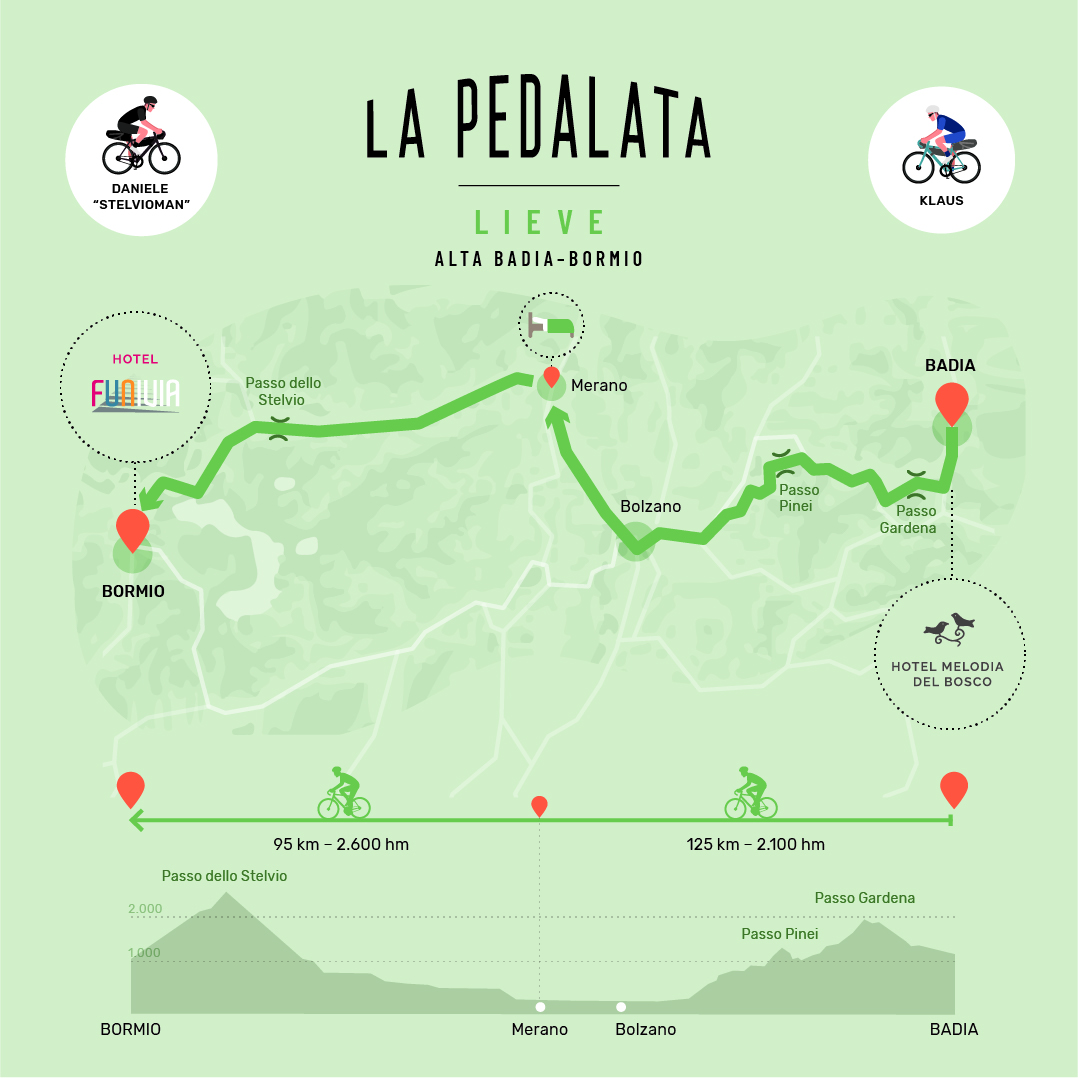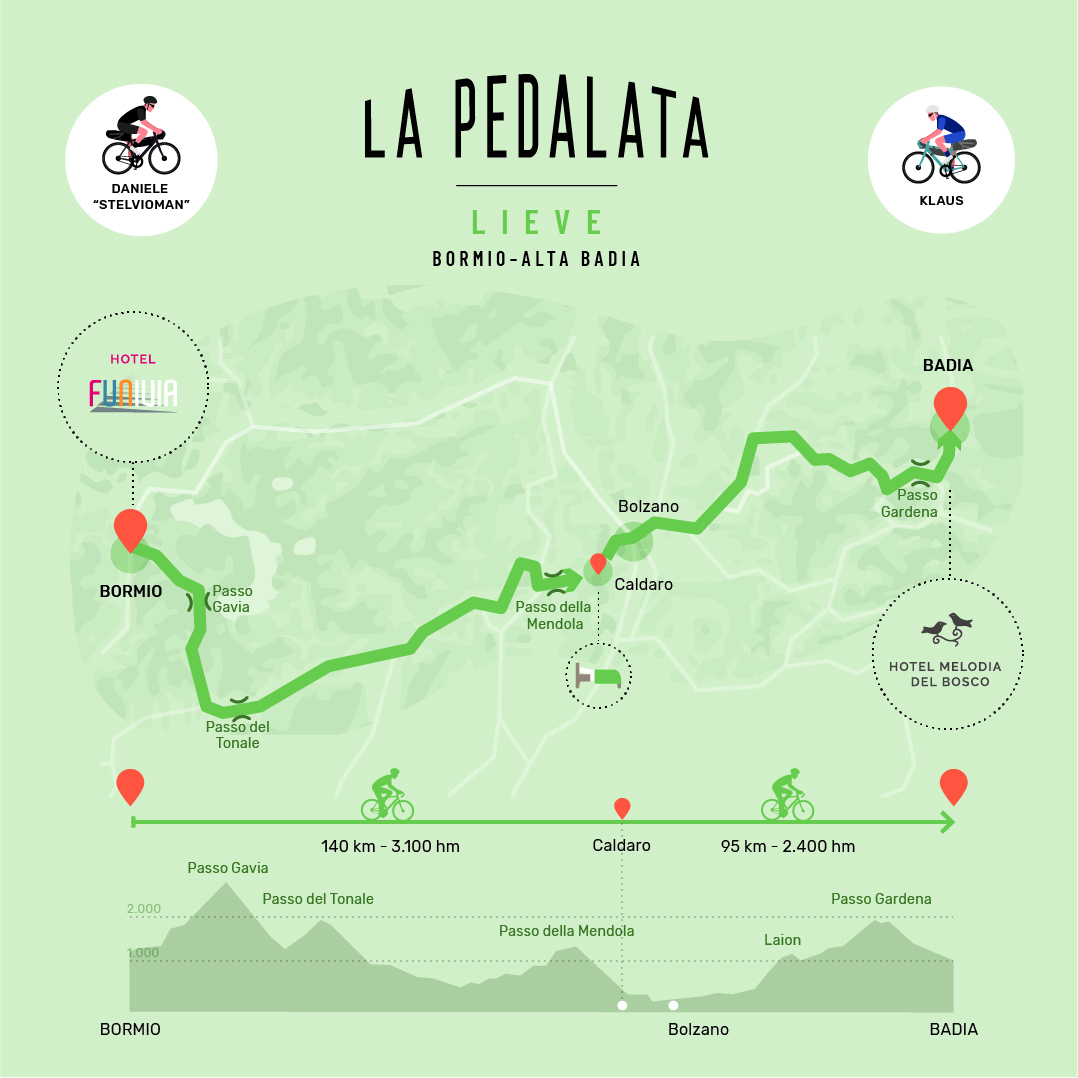 The package includes rental bikepacking bags, GPX tracks and expert advice for an unforgettable adventure.

Edition 2023 from 28 May to 3 June!
Venture into the world of bikepacking with «La Pedalata Lieve». Join us for the special spring edition or choose the dates and we'll offer you a customized package.
Dates
from 28 May to 3 June 2023

other dates on request
Schedule
day 1
check-in at Hotel Melodia del Bosco

dinner at the hotel
day 2
breakfast

start of «La Pedalata» Alta Badia – Merano

check-in hotel or bed and breakfast

dinner
day 3
breakfast

start of «La Pedalata» Merano – Bormio

check-in at Hotel Funivia

dinner at the hotel
day 4
breakfast

tour to the Lakes of Cancano

dinner at the hotel
day 5
breakfast

start of «La Pedalata» Bormio – Caldaro

check-in hotel or bed and breakfast

dinner
day 6
breakfast

start of «La Pedalata» Caldaro – Alta Badia

check-in at Hotel Melodia del Bosco

dinner at the hotel
day 7

Route data
«La Pedalata» Alta Badia – Merano > 124 km and 2,110 m ascent

«La Pedalata» Merano – Bormio > 96 km and 2,570 m ascent

tour to the Lakes of Cancano > 35 km and 1,000 m ascent

«La Pedalata» Bormio – Caldaro > 142 km and 3,130 m ascent

«La Pedalata» Caldaro – Alta Badia > 95 km and 2,360 m ascent

Klaus's and Daniele's suggestions
try to limit your luggage to the essentials, you will appreciate it every time you tackle a climb

your bike will be different to ride with bikepacking bags, so start slowly to get used to the different weight

the route is demanding and you will feel the weight of the luggage at the end of the day, so try to keep a proper pace in order to be able to enjoy the different landscapes

in every village or town there are fountains to fill up your water bottles
Package
4 nights including half board

2 nights including breakfast

5 snack-packs with energy bar and drink

briefing about the route on the day of arrival

customized GPX tracks

Apidura packs rental for your bike

1 «La Pedalata» cap

laundry service for cycling gear in our hotel and in the Hotel Funivia

Price and information
the package «La Pedalata» is organised on request and customized to your wishes. Price starting from 967.00 € per person

in our hotel and in the Hotel Funivia is half board included, in the other accommodations only the breakfast

the price does not include lunch, snacks and drinks

a good athletic preparation is a prerequisite for the tour